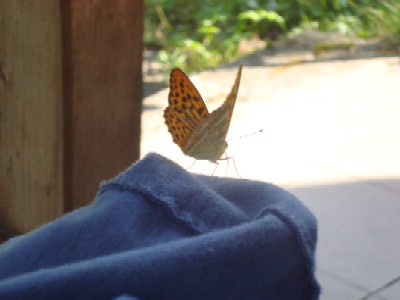 A NIGHT OF DEMONS


It takes the last of the day's brightness with it,
A red fritillary sideslipping
A spider's trapthread cantilevered between leaf and leaf towards

Dusk. So lacewing, waxwing, a dither of something
Ramshackle, entirely feelers and long, loose legs,
A waltz of bronze eyelashes from carpet to skirting board,
The mosquito's impression of a high speed dentist's drill

All before moths begin to cover the glass of the cabin door.
The largest is the colour of cut wood,
The smallest a corner of a dirty bandage.
In between flutter slivers of stone or leaves deprived of light.

Outside is the growl of a stream over rock,
Energies that knot and tangle to the Black Sea.
Later I may shine my torch on water and glimpse
The tremor of a trout's fin, the spasm of a crayfish tail.

Goatsucker, frog, a sidling in the grass;
On the porch I brush away cobwebs from my face
Not an architecture, but a stickiness of scraps of cloth.
Then the unlikely angel; a bat, its toppling flight,
Catching insects as if from the crests of fast-moving ghosts of waves.