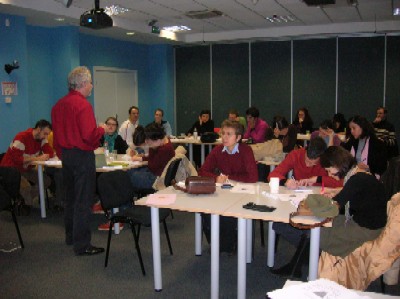 Tijana Nikolic
Midwinter Sounds And Smells
When you walk, your boots produce a grating and crunching sound. There is an occasional splash when a vehicle passes. Other people's feet are grating too, and a sound reverberates in the clear air that is sharp and piercing. It feels good to breathe in. Everything seems so sobering and transparent, awaking you and making you more alert. Towards the evening you can smell something undescribable, that somewhat resembles the smell of burnt wood, or a fire burning far away. Or perhaps one of the old-fashioned furnaces still used in the country, or chestnuts being baked in the open. It reminds you of closeness and of home.

Senka Korac
Jill wasn't happy at all that she was on a bus going to London. Although the country side wasn't as beautiful as in the spring time, the white fields still had its charm. She hoped that the Christmas lights hadn't been taken off the city streets yet. Otherwise, it would be an instant comeback to the greyness of the city and the greyness of reality. As if it wasn't enough that she'd got that big conversation with Ryan coming. Every time she thought of it, she would squeeze the gloves that she had in her lap. The gloves that he gave her last year for Christmas when they were here together.

Aleksandra Nedic
Although Mike knew things would never be the same, he hoped Sarah would give him yet another chance. He wondered through the deserted streets, watching the flickering lights of Xmas trees through windows, happy, smiley faces as the children opened their presents. He remembered his cold flat which smelt of dampness. And he shivered. This year there will be no joy for him. No turkey, no minced meat and no pudding. No Sarah. Or at least that is what he feared.

Anja Dobrilovic
I ran through the radio stations quickly until a familiar sound filled the room. So familiar to me it was that I felt it deep inside my stomach; thrusting away. Only music can bring that sort of pain after so many years, so many days and moments gone by. It brought it all back, so quickly. Too quickly. In a moment I heard our footsteps on the ground, felt the numb fingers squeezed together and bloodshot eyes. One scarf kept us warm. It was a pretty scarf, one of those that isn't a popular name brand, but is knitted from fine, quality wool that is never too rough and never too soft and you get so used to it that it's hard to unwind from your neck when spring comes. Unless, it's pulled off your neck before spring even approaches.

Milena Jovanovic
Where do we go in dreams? Wasn't it summer when I was in Canada? Now it
seems that Canada came to me. When I wake up I'm always cold and hungry. I go outside to buy cigarettes. Strong, thick air slaps my face, bitter air, full of sooth. I tuck my cap on and head towards the store. Mmm, there is a man with baked chestnuts, I can sense it.In the evening we go skating. He turns me on my skates. It's been the first time I'm here. Happy faces pirouetting before me. Nikola and my sister play their own game. So we steal every chance when they pass us to warm our lips. They bought me the ticket as a birthday present. I love this activity. I love it's in the open. I love that I was born in the most beautiful season.

Suzi Popojic
Midwinter
He turned around the corner when a lady bumped intohim. Why are the streets so crowded, he wondered. Heshivered, tightened his coat around his shoulders andmoved on. Then, suddenly, all at once, it hit him. Assoon as he sensed the familiar and warm mixture ofcinnamon, tangerines and mulled claret in the mainstreet, he remembered that it must have passed a wholeyear since then. People around him were carrying fullbags of presents for their beloved ones at home, somewere still nervously searching for the best proof oflove towards them. He stopped in front of a shopwindow, starring at the decorated fir tree in it. Heclosed his eyes, remembering with a smile the tinyred gloves, remembering how much she had loved them.He looked around. The evening had become very whitewith little clouds that people were breathing outafter inhaling life, while talking to each other. Buthe could not hear them. He could not hear anything.The whiteness sucks in, absorbs every sound. Just asthe whiteness in his head, that had turned everymemory into a picture without sound, leaving him witha feeling of mourning and helplessness. `My dear! Youshouldn't be standing here in these shoes! Haven't yougot any boots?` He couldn't believe that it was hissister approaching him. But there she was, a livelypicture with even more lively sound, breathing littleclouds into his red and chilly face.

Emilja Jovicic
I was opening a magazine when I realized that I would never be given enough time to read it. In a few minutes my two boys accompanied by their robust always laughing father would enter the room yelling: " Mum, look how beautiful it is outside. Come with us!". And they would start dragging me out. They would want me to play with them and take them for a ride on the big horse-drawn sledge in the park. And my handsome cunning husband would just look at me and smile, watching us with the pleasure of someone who had just solved a huge problem.

Ivana Jovic
''Come in and defrost me'', was the first thing she said. It's been weeks since she's been in a mood like this. I think I saw her eyes were light-blue with the little yellow spots. They were not her usual dark-blue, cold eyes.
I came in. I was still standing at the door, but my eyes followed her to the room. I waited. ''Would you, please, come here.'' I was waiting for this. I took off my boots and stepped onto the carpet barefooted. I didn't feel my toes. They were paralyzed with cold. ''Hey...'', so unusually soft voice said this. Not feeling my toes, I hurried up. Came into the room and saw little snow-white body full-length. She wore a flower in her hair. There are no flowers in this time of the year. She must have picked it up in the garden of her soul. The fire melted her. I came closer and touched her shoulders and neck. She was still frozen. I was afraid to squeeze her, but there was nothing I would do rather. I took off my coat. I walked down to the window. She was still standing with no heart-beats. The night outside ate the pudding of darkness so thick and cold. I hung my coat on the window.
I didn't want the night to see the rest of the secret. It keeps its secrets very good from me. It doesn't deserve to know mine. I turned. Her eyes were still light-blue with yellow spots. She needed me. Seven steps and I am standing in front of her again. So close, but not close enough, her eyes were saying. I touched her hair and leaned her head against my bare chest. She started crying. Tears cold as ice. They were running down my chest. Thousands of them. I wasn't ready to see her eyes now. My heart was frozen and it was the sign. I knew. She took her body back and made five steps walking five miles away from me. I watched her back. It's coming, I feel it. She turned. Dark-blue cold eyes pushed me out of the door.
The darkness was thicker. I forgot about the blood-stained air around me. Was the blood mine? No, it smells like a blood of a new-born virgin...Feathers of Angels' wings spread all around me...One Angel just died and the other just took out the dried flower from her hair.

Eugenia Weinrabe
It was bleak! I wasn't sure I could go on under theseferocious conditions. My eyes stung, my nose ached.My fingers and toes were numbed, and in spite of my fur hat, my ears felt like a piece of stone attached to my face. It was difficult to see: my glasses were continually steamed up. I kept telling myself I should fight for what I believed in, AND I couldn't let other people down. Would that keep me going? It isn't always easy... you know! I kept thinking. I urged myself on and somehow, I kept going.

Ivan Zivkovic
No1
White grabs me in a moment and i have no time to resist it! Neither do i want to! The particles of freshness tried to reach my head, to clear my vision and reveal something recognizable under the white surface. It's hard to see it clear, especially when you're shivering. Trying to stop the moment! It's not easy any more! Wildandwindy smell abusing my intentions to understand the moment. My minds echoed through glassy slippery streets. Will I find them ever again? Never mind! N ew ones will come! N ewandfresh like this one, when...
No 2
I'd been misled by a wrong thought. Beliefs are something that we put aside, something that stays after us. In the past! New experience awoke me from a dream. A long and cold one! I never imagined i could be so relaxed. Even self-confident to the point that i like this day! This ugly, snowy day. I'm not a fugitive from mental hospital! It just happened to me... and turned me around! Me and my whole life!

Valentina Baljak
Lena didn't want to make this decision. Not this time. She dug her hands deeper into her pockets, gazing through the open door into the small circle of glittering darkness. This door should have been sealed for the night two hours ago, but Markus hadn't returned yet. The wind was howling and she caught a drift of smoke from somewhere, making her wish to be sitting in front of the fire. Yet, she waited here, in front of this massive metal door that should have been their protection from the dread of night. This time she could only see an ending to the hope for Markus's survival.
"Lena, we should shut the door. We have waited way too long. Energy is wasted."
"I know."
She couldn't even make herself to look around, knowing their faces, knowing their worries. She shivered again, not knowing whether it was from the wind only. She was in charge, and it had been difficult enough without this. This Habitat, and this door had been her project, a way to survive in this changed world. She was aware of tension around her, eyes at her back. She was literally hiding now in her big, fur lined coat. How could something so soft and so clean be so dreadful? There was a time when whirls of white like these in front of her brought joy.
"Close it", she said.
When the heavy plates slid into their place, leaving not a crack, all sound died, and she felt something inside her had died with it.

Vesna Dakic
S. got married. It was Marco who told me. I had just walked out of the Faculty when somebody called my name. At the entrance was Marco, and his girlfriend. They both carried furry coats of the same grey colour. I never liked Marco. He always reminded me on a malicious Chihuahua. Actually, they both did. He and his girlfriend. He asked me about my studies, about some friends we both knew. We even talked about the weather. And finally, when I thought that was the end of this lovely interlocution and opened my umbrella, ready to go, it appeared from nowhere. That Chihuahua look. I set my most beautiful sympathetic smile and waited. I knew something was going on.

When he told me about S. I was still wearing my silly smile and my mouth was moving. That 's for sure. I was even able to create some hideous gawky felicitations, I remembered from the commercials. But my mind stopped. For a moment or two I was only able to see, but not to hear. So I stared at these two Chihuahua experts of my personal life, felt the steam of thei r breath on my face, and I wasn' t able to understand what they were talking about. I presumed that it was something of great importance for my life, but I was only able to see. To see them and the leaden sky above us.

Radmila Djurica
Creative Winter
The apartment was all I feared and more. We entered into a hushed atmosphere, from December freshness outside: the only sound we heard was the whisper of an air conditioner purring softly. We could sense a breezy chilliness in the air, every time someone entered the door. The house was a total loss for anyone who might be wandering in, so I stuck to the magnificent view outside.
The sweep of an endless chain of mountains stretched toward the horizon, visible through the window terminating in the shattered statue of some unshaped hostile form, made by the reflection of the lights, mounted on the huge inclemency of a harsh chilly mountain top pedestal. The fallen crystal that had formed on the ground was huge and tinkled like metal after the previous nightfall. They were confused, caught, standing there, in the middle of crystal fall. It surrounded them in all sides and they noticed that it was closing on them, flowing on them, in all directions, while a stiff breeze filled the air. We could sense unwelcome frostiness as though there was a frozen hard dew flying all over: the congealed unwelcome raw noise of the draughty, crisp fragrance in the coming storm. Everything was there: the confusion, the lightning, all made for a very interesting twenty minutes or so, but minutes that would be remembered for a lifetime.

They had left the hotel the night before the series of storms, and the weather had been accurately predicted by the weather service, in fact they were asked to be prepared for some very heavy glacial flakes. It started as a normal December day. The fall sprinkle had fallen overnight, though only on the mountain top. The chilly cover from the previous week, quickly melted in the sun of midday, nothing was new there. But just after three o'clock, two nights ago, the temperature had plummeted below freezing. It was chaos: everything stopped running and the driveway to us had an inch thick brisk cover. I actually found the new situation quite exciting and unusual, because of the frenzy of love this frigid arctic weather might be bringing to me. Nippy little love was all I wanted.

Anica Milenkoviæ
Midwinter Story
Tom heard the alarm clock. "Is it seven already?", he thought. The dawn hadn't broken yet, but the streetlights were out. He got up trembling, turned on the light and started looking for a clean sweater. That didn't help, so he went to the kitchen to make tea. He drank it, put on his green coat and took his black briefcase. In the street, he put on his gloves and lit the cigarette. The cigarette smoke mingled with the morning air, which pinched his nostrils. His shoes creaked every time he took a step interrupting the perfect silence .

Marijana Sekulic
Midwinter Sounds And Smells
It all started that very same morning when she left. Just like that, out of the blue. She packed her suitcase and not saying a word she stormed out, leaving doors wide open for storm to creep into his heart.
The dark-haired, round-faced man stared at the door and the white emptiness behind it. No snowmen, no angels, just her footprints becoming more vague with every gust of the howling wind carrying faint sounds of `Jingle Bells` sung in a low key. He tucked himself up and felt the smell of the burnt wood. The fire that was blazing last night while they were making love was dying now. He couldn't care less for the cool air sneaking in nor the approaching child's voice singing the same verse over and over again, until it stopped. A few meters away.

Aleksandar Mirjanic
I stared at white walls before, trying not to see the date. It was two weeks past Christmass, and it's not that I didn't meet the deadline. The deadline became ancient history by now. I was trying to keep myself worm with some thin blanket I found lying around in a living room. Numbness in my limbs was taking turns with shivering, and I created in the room thick mist with my breath. Stench of cold, dirty, moulded building crept into my very bones. I could sense it anywhere I went.

Branko Stojanovic
Midwinter Sounds and Smells
She moved to the other side of the bed. The silk sheets were still warm, but there was no trace of him. Emma put on her velvet slippers and hurried to the window. The only Christmas decorations in front of her house were the fresh marks of his carriage. She leaned her head against the window pane and her mind was out there, in the street, looking around for him, feeling the first days of the cold spell.